Enterprise Transportation Management Software with Tai TMS
Understanding your supply chain is crucial to making the best decisions for your business. Without a transportation management system (TMS), getting the most important data quickly and accurately becomes significantly more difficult. TMS is simply a class of software that helps plan and execute the physical movement of goods. All supply chain members, including freight brokers and Third-Party Logistics providers (3PLs), can benefit from implementing a TMS solution.
One of the biggest problems 3PLs experience when moving goods from point A to point B is underutilized freight capacity. This is when trucks or containers travel partially empty, mostly due to operational inefficiencies, manual processes, and lack of visibility in the transportation process. Underutilization leads to high fixed costs per unit and low-profit margins. Enterprise TMS can help you optimize transportation and reduce your overall freight cost.
Tai TMS, one of the leading Enterprise TMS solutions in the industry, is truly a game-changer. This software will automate your current process and provide valuable insights, leading to massive time and budget efficiencies. But don't just our word for it; request a demo so you can see how Tai TMS can help you optimize your shipment process and improve your overall freight management for greater cost savings.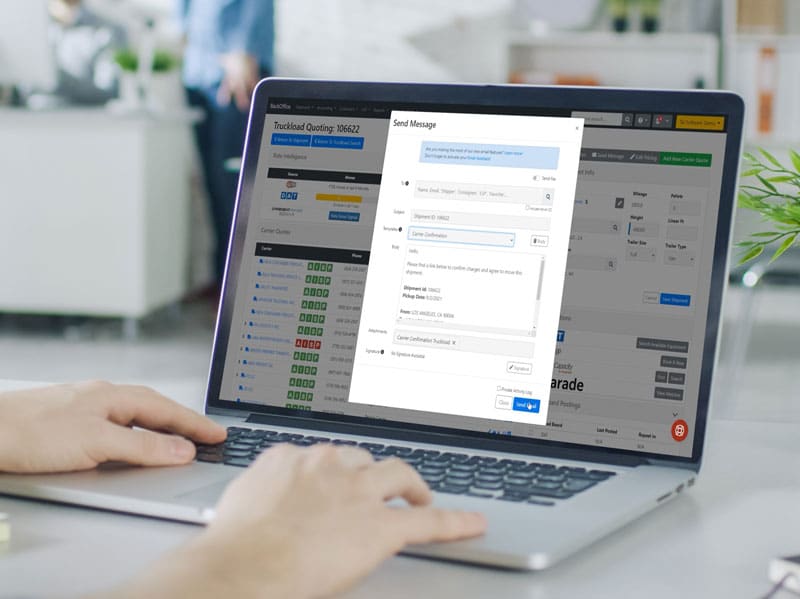 Tai TMS Software Features
Enterprise TMS increases business efficiency and is something that logistics companies can ill afford to ignore. According to a recent GVR Report, the global TMS market is expected to grow 14.3 percent (CAGR) between 2021 and 2028. According to a recent ARC survey, the return on investment (ROI) of TMS was approximately 8 percent, so it's a worthy investment.
However, many brokers and 3PLs will jump on the enterprise TMS bandwagon without a proper understanding of features that result in the aforementioned efficiencies and cost savings, which is not ideal. This section looks at Tai TMS software features and their impact on your transportation process to help you get the most out of your TMS implementation and maximize ROI.
Automation
Manually processing shipments is complex, time-consuming, and leads to higher fulfillment costs. Manual processes are both tedious and susceptible to mistakes and can lead to inefficiencies in the supply chain. Tai TMS software allows you to automate repetitive, rule-based tasks for greater efficiency and accuracy.
Here are three ways Tai Software can help you automate your full truckload and LTL shipments and increase your monthly shipment volume without increasing labor costs.
Automated Pricing
Tai TMS connects you directly to all your most useful broker tools and carriers through direct integrations. This way, you can easily pull pricing from all your carriers and view all rates without a third-party intermediary.
The software will calculate transportation rates for the parcel, LTL, and truckload shipping based on contract agreements, discounts, base rates, etc.
Automated Quotes
Tai Software allows you to send a quote directly to a carrier via the Tai TMS TMS email module. There's also a template that you can use to pull the official pricing and book shipments right from your email instantly.
Automated Accounting
Tai TMS will also automate your accounting process. The software pulls your carrier bill through direct API integration, audits the bill, and delivers the invoice to your client if the bill matches your original quote. If the bill does not match the original quote, the software will alert your team by placing the bill into the variance report.
Automating these processes will help you prevent errors, improve performance, and save time and money across your organization's supply chain. It will also free up employee time for more strategic or creative responsibilities. Automation could save your organization thousands of hours a year.
Shipment Visibility
Clients require 3PLs to provide information on goods for delivery at any given time, and a lack of visibility on shipments can be a deal-breaker. A TMS gives you this level of visibility, providing real-time updates on freight's location. Visibility allows 3PLs to identify areas of concern and prioritize resources, helping them address unforeseen situations and glitches.
Tai TMS offers real-time visibility to help you improve the tracking and tracing of shipments across different modes of transportation and geographies. You can see where each asset is at any given time and provide the client with an accurate ETA. Real-time visibility also allows you to plan, forecast, and adapt instantly to changes to prevent unexpected situations.
Integrations
As a 3PL provider, you probably have a set of tools and applications that you use to manage various aspects of your business separately. Most of your processes are siloed, which may result in ongoing inefficiencies. Instead of maintaining separate applications, you need one system that consolidates the most useful tools through seamless integrations.
Tai TMS Software partners with industry-leading companies in a thoughtful way to integrate your systems, creating an ecosystem that allows you to manage every aspect of your business from one place. Tai TMS helps you unite all your brokerage tools, including carriers, load boards, compliance tracking, accounting software, etc. to optimize performance.
Email Assistant
Freight is a competitive industry. Freight brokers and 3PLs, for instance, need to be swift when dealing with incoming quotes. If you don't, you could easily end up losing the quote opportunity to the competition. Syncing your enterprise TMS solution with email management software is the best way to ensure that you respond to every quote request immediately.
Tai TMS software features an email assistant to ensure that you never miss an opportunity. Tai TMS email assistant uses Artificial Intelligence (AI) to extract important quote information from the email and then return a quote to your client within five minutes. With Tai TMS's email assistant, each customer service rep will respond to 30% more quote requests per day.
Marketplace
The Tai TMS Marketplace is an online trucking marketplace where you can compare and book LTL rates right from your browser. It's your one-stop shop for finding the most competitive LTL rates. There are so many brokers to choose from — who have to go through a strict vetting process to ensure credibility — so you don't have to be stuck with one business partner.
Whether you are an FTL broker missing out on LTL opportunities, an LTL broker looking for better rates, or a shipper looking to save money, the Tai Marketplace can help you find the most competitive LTL rates and grow your business.
Tai TMS will help you automate your processes, increase shipment visibility, manage your brokerage from a centralized platform, and get better shipping rates via the Tai TMS Marketplace. As a result, you will be able to lower costs, improve efficiencies, meet rising consumer expectations, and gain a competitive advantage.
Request a demo of the Tai TMS and discover how we can help you streamline your supply chain.