Freight transportation is among the largest and most lucrative industries in the United States. According to the DOT, shipping freight directly influences more than 44 million jobs throughout the country. There are numerous businesses across various industries that rely heavily on moving freight.
According to the Federal Highway Administration (FHWA) and the DOT's Bureau of Transportation Statistics, over the following three decades the volume of freight moving across the United States transportation network will increase by as much as 40%. In addition, the freight's value is also expected to increase by as much as 92% during the same period. By 2045, the total amount of cargo moved by every transportation mode, including air, ocean, rail, and truck, is expected to exceed 25 billion tons and reach a value of around $37 trillion.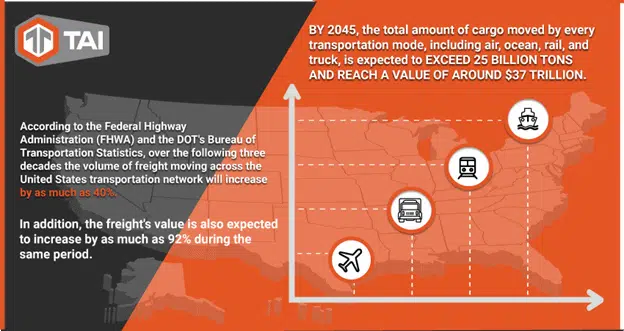 Many logistics industry stakeholders have turned to less-than-truckload (LTL) freight shipping to save on their transportation costs without sacrificing the service quality. Nevertheless, newcomers in this logistics sector may have some challenges understanding all of the nuances that go into LTL freight shipping. This guide will take a closer look at what LTL is and how freight brokers need to address it.
What Every Broker Should Know About LTL Freight Shipping?
Less-Than-Truckload shipping (LTL) refers to any shipment that doesn't require the entire 48- or 53-foot trailer space. Typically, LTL shipments fall anywhere between 150 and 15,000 pounds. Any loads under 150 pounds are usually classified as small packages and are handled by specialized parcel carriers such as FedEx Ground, UPS, and the US mail service.
Like the freight carriers that specialize in Full-Truckload shipping, LTL carriers can further specialize in providing specialized services such as expedited freight, lift gates, freeze protection, residential pickups, deliveries, and guaranteed services. Intermodal shipping is also an option and allows moving freight through various transportation modes such as air, rail, ocean, or road transportation.
Within the United States, moving freight by truck is the most common and widespread transportation mode because it offers shippers the highest levels of flexibility at relatively low prices. Shipping goods by truck can move freight faster than rail freight, as these shipments don't have to mold themselves after the railroad's timetable. When it comes to freight carriers in the US, the two most common types of service are LTL and FTL. While FTL carriers move trucks and containers full from a single customer, LTL carriers move goods from multiple shippers in the same truck. LTL carriers offer customers a more cost-effective method of shipping freight than FTL operators.
What Is The LTL Hub-and-Spoke Network Model?
Another significant difference between FTL and LTL freight shipping is the operational model under which they operate. With FTL shipping, the typical method used is the point-to-point system. Put simply; this operational model is where the carrier picks up the freight from point A and ships it directly to its final destination at point B with few or no stops in between. While this is a straightforward approach, it's not really a viable approach for LTL shipping.
Most top LTL carriers employ the LTL hub-and-spoke network model because it allows them to pool multiple loads together. At its core, the hub-and-spoke model addresses freight density and LTL freight consolidation. To achieve these, an LTL shipping company will typically build line hauls at their transloading facilities by combining shipments from multiple customers in the same region. These are then sent to their destination points found in similar areas. This network model drives efficiency within the LTL line haul segment.
Put somewhat differently, the hub-and-spoke model allows carriers to pool their loads together at a cross-dock central hub and send the consolidated freight to the next cross-dock distribution center. The entire cargo is divided into separate shipments at the destination hub and delivered to the end customer for final delivery. In other words, this model helps achieve the desired freight density to fill out a total line haul across the country.
There are, however, instances when LTL carriers are unable to achieve their desired level of freight density. When this happens, they plan out their freight to cross-dock across multiple hubs along the way to its final destination. By doing so, shipments achieve total density, which translates to lower shipping costs. It also means that LTL freight typically takes longer to reach its destination.
What Are The Advantages of LTL Shipping?
LTL shipping services have seen increased importance over the past decade. With the rise of eCommerce, particularly in light of the pandemic, fast shipments have become critical for online and brick-and-mortar retail businesses. The current state of affairs has proven to be a profitable period for LTL carriers when compared to their FTL counterparts where the pricing discipline is scant because of the ease of market entry. The top LTL carriers control around 75% of their share of the market.
One of the main benefits of LTL shipping revolves around costs. Shippers looking to book an LTL shipment only pay for the portion used and not the entire trailer. The rest of the transportation costs are paid by the other shippers that use up the trailer space. Also, most less-than-truckload shipments are packaged together onto the same pallets before being loaded onto trucks. These have a better chance of remaining secure from damage during transit than is the case with parcel shipment carrier services. This means that LTL freight brokers will have to deal with fewer customer complaints regarding the conditions of their shipments.
LTL also provides more specialized services such as inside freight pickup and delivery, lift gates, or white-glove services. More professional LTL carriers also offer tracking capabilities to their customers through the shipment's PO number, shipment reference number, bill of lading, pickup data range, etc.
As mentioned earlier, one of the major considerations of LTL shipping is the transit times. Generally speaking, it will take longer to plan, organize, prepare, and ship the cargo in less than truckload. Therefore, it will take longer for it to arrive at its destination. In some cases, the truck driver will need to wait until the capacity of the truck is filled until it leaves, and the truck may not take a direct route to any one destination. Based on the total number of stops and transfers, LTL also involves more freight handling which increases the risk of damage or loss.
How to Reduce Damage with LTL Freight?
Since under the hub-and-spoke network model, LTL cargo never travels its entire journey in the same position as it was loaded at the origin dock, the chances of the shipment being damaged will go up. At a minimum, every single shipment will be touched at least twice — at the LTL carrier's origin and destination hubs. Therefore, several things need to be considered when trying to reduce the damage to the LTL shipment. Among these, we can include the following:
The Pallets – Pallets play a couple of key roles in shipping. They provide both ease of conveyance and increased protection to the goods placed on them. By investing in quality pallets and ensuring that the products are correctly set on the pallet, the risk of damage during transport is lowered.
Stretch-Wrapping – Similar to pallets, stretch-wrapping increases the security of the shipment. It does so by holding the contents of the shipment firmly in place. It also affixes the entire load on the skid to the skid. The stretch-wrapping also helps by hiding the contents of the product on the pallet or skid.
Packaging – Packaging makes up only a small part of the entire transportation process, yet it can play a significant role in the safety of the shipment. Sub-par carton type can undermine many efforts of reducing freight damage. Heat and moisture are the primary culprits that weaken cardboard boxes and can lead to significant product damage during transport.
Freight Insurance – While the above examples are geared more towards shippers, freight insurance can address freight brokers in equal measure. Freight damage is, unfortunately, unavoidable no matter how many steps are taken to prevent it. Fortunately, most LTL carriers provide freight insurance coverage. These rates are usually included in the freight rate. If the carrier insurance doesn't cover high-value freight, there is the option of third-party insurance.
What Factors Determine LTL Shipping Rates
When it comes to parcel shipping, trucking rates are usually determined based on the package weight, and distance traveled. LTL freight rates, however, have some additional factors that are taken into consideration. Among the significant factors that determine the LTL shipping rate, we can include the following:
Distance – Just like with parcel and FTL freight, the distance between origin and destination impacts the freight rate.
Freight Dimensions – The cargo's weight and density also affect the freight rate. They first help determine the freight class of the shipment.
Accessorial Surcharges – Any extra services provided such as liftgate, residential pickups, deliveries, limited access locations, inside delivery, etc., can increase the shipping rate unless they're negotiated to a flat rate or waived entirely.
Type of Shipment – Loads that need special handling or equipment such as produce, pharmaceuticals, perishables, fragile, or hazardous materials will likely incur higher freight costs.
Base Rates – Every LTL carrier establishes its own base rates. These are typically quoted per hundredweight (CWT) – 100 pounds. The base rate is determined by the freight class and the lane that the shipment needs to travel. Base rates differ from one carrier to another and will change depending on their need for extra freight volume for particular freights.
The 18 Freight Classes
As mentioned earlier, the weight and density of a shipment influences the shipping rate and determines the freight class of the LTL shipment. There are 18 established freight classes published by the National Motor Freight Traffic Association (NMFTA) in their National Motor Freight Classification (NMFC) book. These classes range from 50 to 500 and are based on freight density, stow-ability, value, handling, and liability. The LTL freight class is inversely proportional to the cargo's density. A lower LTL freight class usually indicates that the shipment is easier to handle and more difficult to damage during transport. Therefore, lower classes also have lower freight rates. Higher classes, even though they may be lighter, may take up more space in the truck and have higher freight rates.
| | | |
| --- | --- | --- |
| Class Name | Examples | Weight Per Cubic Foot (Density) |
| Class 50 – Clean Freight | Fits on standard shrink-wrapped 4X4 pallet, nuts, bolts, steel bolts, strapping material, flour | Over 50 lbs |
| Class 55 | Bricks, cement, mortar, hardwood flooring, cloth, magazines, copy paper | 35-50 lbs |
| Class 60 | Car accessories & car parts, steel cables, used tires, ceramic tiles, stone blocks, glass, moldings | 30-35 lbs |
| Class 65 | Car parts & accessories, bottled beverages, electric cords, books in boxes, conveyors, boxed chocolate | 22.5–30 lbs |
| Class 70 | Newspapers, pencils, machinery, caskets, unassembled furniture, food items, car engines | 15–22.5 lbs |
| Class 77.5 | Tires, clothing, bathroom fixtures, garments, snowplows, | 13.5-15 lbs |
| Class 85 | Crated machinery, transmissions, clutches, doors, pharmaceuticals, CDs/DVDs, motorcycle engine | 12–13.5 lbs |
| Class 92.5 | Computers, monitors, refrigerators and freezers, gas-powered generators, cabinets | 10.5-12 lbs |
| Class 100 | Vacuum, boat & car covers, canvas, wine cases | 9-10.5 lbs |
| Class 110 | Cabinets, metalworking, framed paintings & artwork, table saws | 8–9 lbs |
| Class 125 | Small household appliances, exhibit booths, pictures/posters in boxes, vending machines | 7 – 8 lbs |
| Class 150 | ATV, jet skis, work stations, motorcycles, assembled wooden furniture, | 6 – 7 lbs |
| Class 175 | Couches, stuffed furniture, metal cabinets, | 5 – 6 lbs |
| Class 200 | TVs, packaged mattresses, aircraft parts, aluminum table, snowmobiles | 4 – 5 lbs |
| Class 250 | Bamboo furniture, engine hoods, mattresses and box springs, unassembled couches, flat-screen TVs | 3 – 4 lbs |
| Class 300 | Wooden cabinets, tables, chairs, model boats, kayaks/canoes, chassis | 2 – 3 lbs |
| Class 400 | Deer antlers, light fixtures | 1 – 2 lbs |
| Class 500 (Low Density or High Value) | Bags of gold dust, ping pong balls | Less than 1 lb |
Best Software For LTL Brokers
There several things that business owners need to take into consideration when looking to grow their LTL brokerages. One of the most important among them is investing in the right technologies. With the freight boom of the past decade, the logistics industry has seen a number of advancements in AI and automation. These technologies enabled the brokerages to deliver high levels of productivity, mainly through transportation management systems (TMSs).
These digital tools have completely changed how logistics companies track their daily shipments and process their freight quotes. The use of these transportation management solutions has increased in recent years, and their tasks and utility have multiplied as well. Additionally, not all TMS systems are the same. TMS providers who don't commit themselves to continuous improvement and innovation will become obsolete sooner rather than later.
What Are the Key Functions and Features of TMS Software?
There are plenty of choices when it comes to selecting a TMS platform. At its core, such a solution has rating, tracking, and booking functionalities. However, more advanced systems can also offer additional functions such as freight audits, dashboards, reporting, and similar modular features that can be added based on each freight broker's specific needs.
Tai Software is such a system that provides freight brokers unmatched visibility and scalability opportunities. Tai TMS is designed to handle the current freight volumes of the organization as well as master scalability as the freight brokerage grows. The key to Tai TMS is centrality, as LTL shipments can be quoted, booked, and tracked from a single, comprehensive platform. Through direct integrations with all major carriers such as Redwood Logistics, XPO Logistics, U.S.Xpress, FedEx, UPS, and many others, as well as load boards such as Truckstop.com, LoadSmart, and DAT, among others, TAI Software greatly simplifies operations management by reducing the number of repetitive steps needed to run the freight brokerage operation.
Tai TMS acts as a centralized platform for freight brokers, preventing them from having to jump from a load board to an LTL carrier's website. All updates appear directly into the platform. What sets Tai TMS apart from the rest is its heavy reliance on automation. This type of automation goes beyond just carrier booking capabilities.
Direct API and EDI carrier integrations provide team members with extensive control and deep insights over the entire shipment lifecycle. Automated tracking and dispatching help move entire shipments from the initial quoting stage to final delivery without dispatchers having to be directly involved. The platform's API tariffs give brokers and their clients direct access to LTL rates from a single, centralized location.
Through the API and EDI integrations to LTL carriers, shipment visibility is also increased by having brokers track their LTL shipments directly from the shipment profile. The client receives instant quotes and real-time shipment tracking directly in the branded self-service company portal.
Automation helps speed up scalability. Freight brokers can take on additional shipments without increasing labor costs. Innovation is a core principle of Tai Software, and it will continue to provide the best solutions to help brokers grow their business faster and easier than ever before. Request your free demo today!