Logistics managers will start implementing a transport management system (TMS) to optimize their company's logistics and supply chain management strategy. In recent years, TMS implementation, configuration, functionality, and cost have improved for the TMS user's favor. So much so that a TMS system can be used as a supply chain management solution for most organizations.
Before the advent of cloud-based TMS SaaS, the transportation management solution was only a viable option for the largest shippers in the industry; however, with the proliferation of cloud-based TMS software, the transport management system market size is expected to grow at a compound annual growth rate (CAGR) of 14.5% between 2020 and 2025. The TMS market is likely to go from $2.5 billion in 2019 to over $4.33 billion by 2025.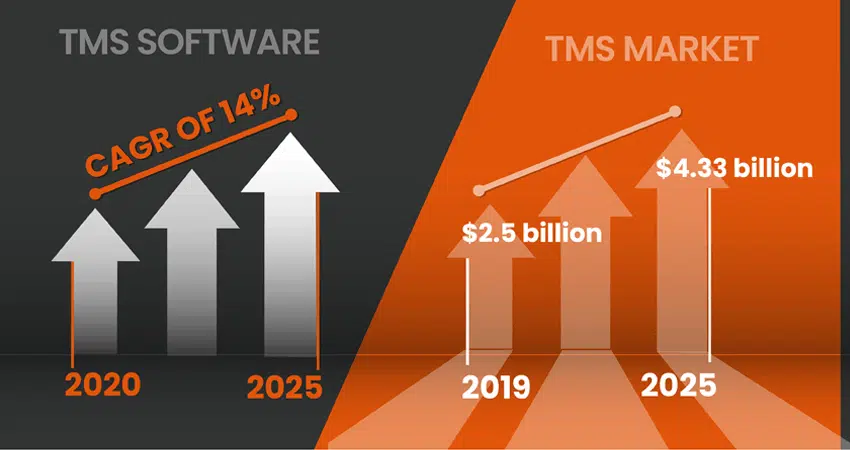 TMS software plays a crucial role in supply chains. They can affect every part of the process, from planning and procurement to logistics and lifecycle management. The enhanced supply chain visibility provided by the TMS platform will also help increase the company's efficiency in terms of transportation, planning, and execution, which can result in better customer satisfaction, sales, and business growth. Below are the key TMS functions that help provide users and stakeholders with these benefits.
The 10 TMS Functionality Components
While not all transportation management systems are made the same, most will have 10 functional components specifically tailored for freight forwarders, brokers, trucking companies, logistics managers, and other industry stakeholders. These broad functionalities are as follows:
Carrier Management
Procurement
Load and Route Optimization
Freight Execution
Visibility, Reporting, and Analytics
Supply Chain Communication
Supply Chain Data Repository
Freight Settlement for Audit & Pay
Invoicing
Business Intelligence
All of these components are used in different combinations within a TMS solution to tie in various stakeholders as follows:
Freight – Optimizing, planning, and executing both inbound and outbound freight. It also analyzes the freight cost and performance of provider partners.
Manufacturing – Increasing the visibility of the inbound material needed for manufacturing.
Distribution – Increasing the visibility of inbound goods needed to fill out orders.
Procurement – Vendor management and performance reporting.
Finance – Freight audits, invoicing, pay, calculating accruals, and analyzing cost performance.
Sales – Tracking customer orders and performance reporting capabilities.
Customer Service – Tracking orders for customers.
Vendors – Scheduling, managing, and reporting inbound shipments to their customers.
Customers – Direct and on-demand access to real-time order and shipment information.
What Are the Key Functions of TMS Software?
There are many options when choosing a TMS that is the best fit for your company. Listed below are some key functions of TMS providers; however, the functions may vary depending on the provider.
Automatic Order Processing
Most transportation logistics software allows businesses to share their purchase order detail information directly with their suppliers and file EEI through an automated export system. They can also streamline their sourcing and procurement tasks by pulling data from past orders automatically.
Load Management
Companies can organize, track, and update their load tracking throughout the entire load cycle. The TMS solution will typically highlight the data regarding loads by customers, drop dates, load statutes, carriers, drivers, the material being shipped, and more. The system should also allow for the sorting of loads based on similar criteria such as carriers, drivers, customers, reference numbers, city, and other keywords.
Driver Dispatch
Utilizing direct and real-time wireless communication for dispatch and deployment of truck drivers will allow dispatchers to quickly and seamlessly create, plan, and track shipments through the TMS platform.
Routing and Dispatching
By analyzing maps, modal and speed limits, traffic data, fuel costs, and weather forecasts in real-time, logistics managers can find more time and fuel-efficient routes. With this type of data, shippers will also be able to determine the best carriers for each of their deliveries and help consolidate their shipments into more efficient loads.
Cargo Tracking
This feature allows businesses to locate products based on their SKU identifications while en route. They can also improve customer satisfaction through their ability to provide them with the exact location of every transport. This function can also highlight any weak links in the supply chain. Performance Tracking
The ability to track various performance metrics such as loading and unloading times will help logistics businesses plan their shipment deadlines and collect data across the entire lifecycle.
Quotations
The TMS software generates and sends quotes for any modes of transportation. It also allows for tracking the status of the quotes and converts them into orders when necessary. Some systems also allow for email templates, impromptu quotes, and one-click shipment generation.
Electronic Document Management and Data Interchange
With a robust TMS solution, freight forwarders, brokers, and other logistics companies can also receive and archive all files and documentation in a digital environment. They will also be able to customize templates and generate documents with meta tags for easy indexing, search, and retrieval. These systems typically add security and access features to different team members when sharing files and documents internally or externally. Through standard electronic formats (EDI) between multiple trading partners, you can seamlessly facilitate the exchange of documents from one digital device to another.
Automatic Carrier Selection
Many transportation management solutions can automatically generate the most efficient carrier options for new deliveries. Freight brokers can choose the right carriers for their clients' transportation needs, saving them time and resources.
Financial Management
Transportation management system software helps to streamline and automate many of the accounting needs of a business. These features handle claims and set transactions to cover shipping or handle any last-minute changes and protect from any potentially costly human errors.
Freight brokers can also handle their shipping on all modes such as road, rail, air, or sea by creating the document details owed to the agents, customers, or shipping partners. The majority of systems are also able to handle most primary accounting and financial needs.
Advanced TMS Functions
Aside from the core features of TMS software mentioned above, more specialized providers can offer advanced functionalities that help boost efficiency in various areas of the supply chain.
Advanced Transportation Intelligence – Analytics tools help businesses get actionable data from integral parts of the transportation process. This includes transaction data, profitability, user interaction, and profit, and carrier margins. By tracking these KPIs, you can get a birds-eye-view over what's working and what isn't. Data about these issues will allow for better and more informed decision-making.
Mobile Access – Mobile devices are commonplace in today's day and age. As such, access to TMS software should also be possible from a tablet or mobile phone. This will allow users to make more informed business decisions, view trucking schedules or driver performance from anywhere there is an internet connection.
Dispute Management – Some TMS software also offers dispute management capabilities that allow users to be aware of and handle any claims and damages in real-time. You will be able to solve these issues before they grow, improving customer satisfaction in the process. You will also see how and why a shipment is delayed and tackle the problem before any other issues arise.
Multi-Modal Shipments – By planning, optimizing, and executing multi-model shipments with a TMS, you can solve any complex rate shipment structures that involve more than one transportation mode that have multiple stops along the way.
Takeaway
When it comes to TMS software's essential functions and benefits, businesses should first identify their own needs. A successful TMSpartnership will largely depend on the needs it can fulfill within any given supply chain.
In terms of freight cost management, TMS features will provide the correct data that allows for the most cost-efficient decision-making. This will free up valuable employee time while maximizing freight consolidation. While most TMS software should provide users with basic features to help them manage their loads, only a handful actually help logistics providers scale their operations and stay ahead of the competition.Tai Software is one such example that encompasses all the aforementioned features and benefits. As a cloud-based solution, Tai Software uses artificial intelligence (AI) to provide its users with a centralized platform that can automate the shipping and accounting process, helping freight brokers, 3PLs, freight forwarders, and large shippers alike scale growth. Request a free demo today and take advantage of what some of the best TMS solutions have to offer!