When talking about transportation management, accuracy and efficiency are of the utmost importance. However, optimizing the transportation side of supply chain management can often prove to be an immense challenge. Between fleet management, shipping route optimization, accounting, and other such supply chain functions, transportation planning and execution can become quite complicated. Fortunately, a transportation management solution (TMS platform) can significantly streamline and optimize these processes.
With supply chains increasing around the world, the TMS software market is also on the rise. Estimates point to the global logistics industry at somewhere between 8 and 12 trillion dollars per year. In the United States, the sector made up roughly 10% of the country's entire GDP. In 2019, the logistics market there reached a whopping $2 trillion. As such, successful transport management is becoming increasingly critical when facing disruptions and fluctuating market demands.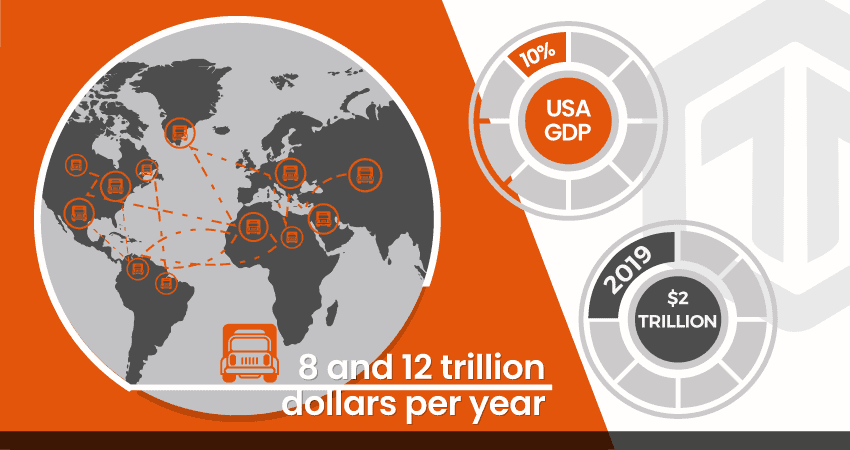 When someone searches for transportation management system software, they usually look for logistics support within their supply chain. There are plenty of moving parts within the entire supply chain, and a TMS system will come in handy in many parts of the organization, whether for freight consolidation, warehouse management, better supply chain visibility, inventory management, or fleet performance optimization.
Below are some of the benefits that a modern TMS solution brings to the table:
Better Organization and Accuracy
When it comes to running a successful transportation company, being organized is vital to the operation's success. The best transportation management system software will help freight management, fleet organization, and all other behind-the-scenes operations run smoothly.
Through its accurate management tools, transport management software can also help logistics companies navigate international transport's often complex nature. They can also help streamline any tedious or error-prone billing processes by reducing manual entries and highlighting any accounting errors.
Improved Supply Chain Visibility
When it comes to enhancing the entire supply chain visibility, TMS systems look into the many processes and turn that information into digestible data for better decision-making. This increased supply chain visibility level helps freight forwarders, brokers, and others in the industry plan their inventories adequately, pair their shipments with the right carriers, and more.
These features measure all the relevant metrics and KPIs so that decision-makers can eliminate inefficiencies and avoid problems before they even appear.
Automation
Automating tedious and repetitive manual entries and other such paperwork processes can streamline and optimize the efficiency of any organization. Even smaller businesses that don't have complex volumes of data to analyze can benefit from billing automation. By automating accounting tasks, human errors will be all but eliminated, allowing your organization to focus resources in other areas.
Cost Reductions
The features of a robust TMS system work together to help adapt to customer demand, help with transportation planning, increase customer satisfaction, and boost overall efficiency—in essence, saving your company money. From things like fuel and route optimization to automated invoicing, transportation management software helps reduce waste and resources. They also help provide logistics managers with actionable insights on how the business strategy can be changed to better position the company on the market and gain a competitive advantage. TMS helps companies rate and route their shipments more efficiently, ensuring that freight is moved at the least cost and with the best service.
Simplifying the Operational Execution
TMS platforms also offer an efficient environment to manage, execute, and analyze logistics and supply chain strategies.
Planning
When it comes to freight costs, the TMS does the heavy lifting through freight optimization. The TMS solution can evaluate thousands of alternatives at a moment's notice at the lowest cost.
Execution
The TMS will also automate the tender processes through a process known as waterfall tendering—a system that tenders the lowest-cost contracted carrier first. If they don't accept the load, the process continues down the line from the cheapest to the most expensive until the freight is accepted.
Carrier Management
The transport management system helps automate carrier data by streamlining the carrier onboarding process, managing contract rates, terms, certifications, and fuel charges. It's also connected to various load boards, such as DAT.com or Truckstop.com, to easily access the freight spot market for capacity when carriers can't meet their service requirements.
More Freight Capacity Options
With motor carriers and logistics service providers digitally connected within the TMS, freight brokers and other companies can quickly access their contracted rate carriers and capacity. They will immediately identify any capacity issues that can be rolled over into the freight spot market when the contracted carriers cannot service the lane.
TMS Bring Troves of Actionable Data
Businesses that still use email, phone calls, and spreadsheets for logistics and supply chain management are missing out on tons of potentially actionable data that can be used to move their strategic direction forward. TMS users can make use of advanced analytics to benchmark performance and improve daily processes and operations. The logistics software will also collect, integrate, and present business intelligence for better overall, data-driven decision-making.
More Supply Chain Transaction Transparency
Logistics managers and team members who rely on spreadsheets and databases are typically more focused on putting out daily fires rather than discovering new ways of working smarter and more efficiently. By using a TMS as a communications platform between internal and external stakeholders, hundreds or even thousands of shipments can be easily seen and managed simultaneously. Companies are also better positioned to manage rising freight rates, capacity supply and demand challenges, complex motor carrier rate schedules, and diverse freight networks.
Through simplified automated reporting for all stakeholders involved, everyone will be kept ahead of the curve by working proactively instead of reactively. Depending on the size of the files and their timeliness, reports can be sent to users via email, XML, EDI, or FTP.
Improved Customer Service
A robust TMS solution also helps enhance customer satisfaction through better service levels, such as improved visibility, automation, and speed. With the increasing demand from today's customer base, a dashboard that can pinpoint a shipment and provide delivery time specifics is invaluable to a business looking to lower operational costs.
Accounting Efficiencies
Freight audit and pay on hundreds of transactions is a daunting task. In many cases, this is also a paperwork-driven task that's often prone to human error. A modern TMS software can make a world of difference in this area as it makes the entire freight audit and payment process as simple as possible. The whole audit process can be performed in half a minute without dealing with piles of paper or a continuous flow of emails on various internal and external issues.
Improved Procurement
Integrated rate tools maximize request for proposal (RFP) opportunities by simplifying both data collection and analysis. This process is done through actual data and not the averages-of-averages. This means that the amount of available information is too large to fit on a spreadsheet in most cases. Therefore, buyers will need to use averages of smaller pools of data, which unfortunately, don't capture everything required to perform an effective RFP.
Utilizing real information within a state-of-the-art database for analytics purposes will help optimize results. Adding third-party freight intelligence will bring in market data to benchmark and negotiate freight rates. This will put the procurement team in a better position as opposed to guessing what rates should be when making the freight budget.
Better Return on Investment (ROI) and Faster Scalability
When it comes to transportation and logistics management, savings typically come from a more efficient transportation network design, load consolidation, multi-stop route optimization, enhanced procurement processes, freight audit and pay, and overall improved efficiency. A TMS will help in all of these areas, providing a great ROI in the process.
With effective logistics automation features packed into a single software, there is no need to add more resources to managing freight, logistics, or transportation. Even as your organization grows and starts shipping more cargo, the TMS will easily allow for more users to be added to the system.
Takeaway
When used correctly, a TMS will drive numerous benefits and improve the freight broker's bottom line. While most trucking software covers the basics of load management, and effective freight broker will need much more than that.Tai Software is a cloud-based transportation management system perfectly suited to cover all freight brokers' needs. It uses AI to provide logistics management, integrations, shipment automation integrated into a single platform. Request a free demo today!