Few things have benefited the supply chain industry as much as transport management software has. Businesses today operate in a volatile and complex environment coupled with the ever-increasing digitized transportation industry. It, therefore, makes sense that the transportation management system market is on a constant rise.
Researchers estimate that the TMS market will reach $6.63 billion by 2026. Whether you're a retailer, distributor, or manufacturer, there are chances that you are already familiar with the concept of TMS and the transportation management system benefits. Those in these industries aren't the only ones who can benefit from TMS.
Any company in any sector that deals with logistics frequently can benefit from a TMS solution. The transportation management system benefits are many, so before you select a TMS, you first need to understand its value.


10 Benefits of Using a TMS
Minimal Paperwork
Automating all accounts within your company using a TMS lets you save precious money and time spent on cumbersome paperwork and reduces administrative expenses to a great extent. TMS essentially helps you eliminate blunders such as invoicing mistakes and incorrect billing, resulting in increased overall efficiency.


Seamless Integration With Existing Systems
TMS integrates seamlessly with existing systems that are important in managing your company's transport needs. These may include:
Warehouse management
Customer relationship management
Purchasing and order management systems
Supplier relationship management
The new generation TMS integration enables you to execute orders most effectively. It also offers the advantage of load optimization and better route planning for the company. In simple terms, using a transportation management system will make the planning and execution of orders better and much quicker.


Better Inventory Management
With TMS, you can monitor the lifecycle of your orders and shipments in real-time, receiving regular status updates on each. This offers an accurate prediction of inventory, thus improving the accountability of the supply chain network.
Additionally, some network-based TMS solutions offer inventory-managed solutions that work in tandem with the TMS, thus making inventory solutions and TMS intelligent and efficient.


Improved Cash Flow
Having a good TMS can help your business immensely in reducing freight costs. The right system enables you to analyze the financial aspects of your logistical routes. It will generate user-focused suggestions to help you reduce expenses in some areas of your business, including driver overtime, negotiated rates, and fuel consumption.


Automated Workflow
With the right TMS, your business can automate many processes reducing the time you spend on administrative tasks. TMS features can help reduce or eliminate many repetitive work-related invoicing and billing, leading to reduced costs. TMS can help your business streamline its process leading to increased efficiency in workflow.


Supply Chain Visibility
Systems that integrate across the board on the supply chain offer a clear insight into how the supply chain works. Gaining full operational access and visibility to real-time data is a significant advantage. It enables businesses to act quickly on opportunities that arise and resolve issues. The ability to fix problems even before they start keeps you in your customer's good books without sacrificing performance.


Efficient Routing and Scheduling
Routing is a very crucial aspect of the supply chain and distribution sector. Order cycles have reduced, and in turn, shipment sizes have shrunk. Having the right systems equips you with the right tools you need to implement good pool distribution, which is a much cheaper and faster method of delivery. It also offers excellent visibility and ultimately more control.
You get to choose the optimum pool point to determine the shipments that should be delivered or picked up. Additionally, complex orders get broken down and routed separately, saving time and money in the process.


Driver and Delivery Tracking
Driver and delivery tracking enable you to assess how the different routes drivers take are fairing. This can, in turn, help generate an efficient schedule. The best part about it is that the assessment of drivers can be done quickly. You can track your drivers' efficiency and provide feedback on areas you feel need improvement. Real-time driver and delivery tracking also offer significant safety benefits, especially in accidents.


Improved Customer Experience
With many services moving online, customers expect speedy delivery and also want to be able to make last-minute changes and customize their delivery times. Customers don't just demand to have these services; they expect them to be a formality in every order they place. Businesses usually face many challenges when adapting their operations to meet and sometimes exceed the expectations of their customers.
This is why TMS is so important. TMS helps bring order management and warehouse management systems closer together and allows you to consolidate your customers' orders to find the most suitable carrier at an affordable price, which is a win-win for your business and customers as well.


Instant Access To Side By Side Rates
A robust TMS will give you instant access to LTL rates by displaying all tasks in one convenient location. This provides clients with instant quotes and helps staff members automate dispatching and tracking capabilities.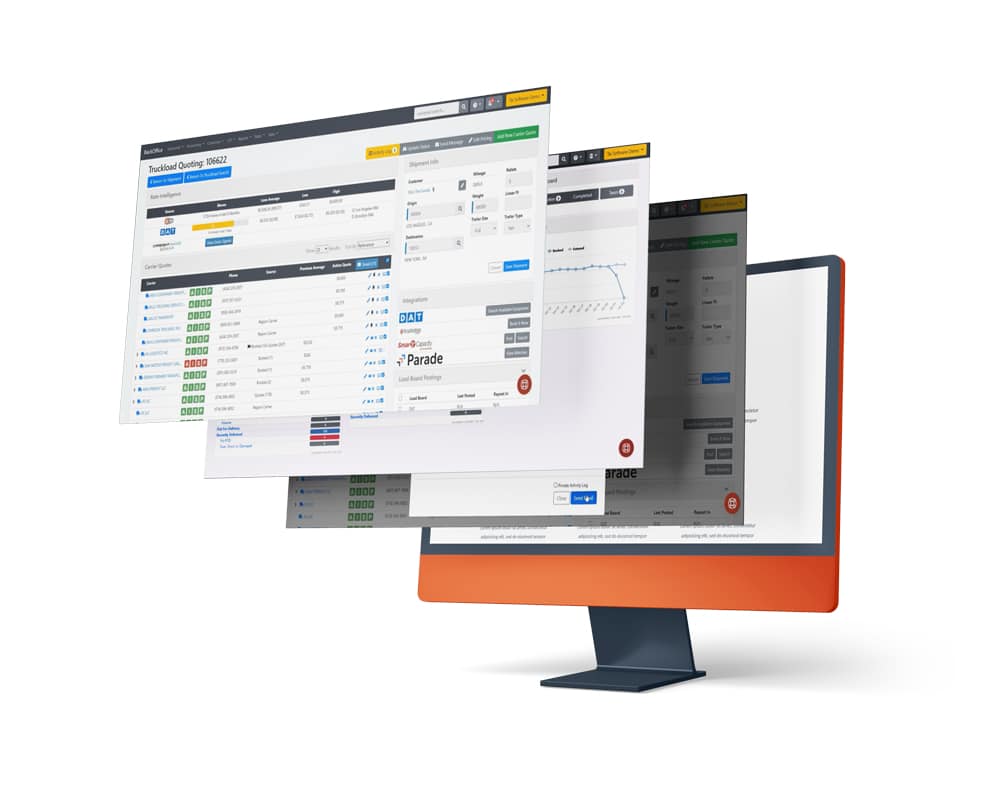 People Also Ask
What Is The Purpose of Transportation Management?
A transport management system enables organizations to plan, execute and optimize incoming and outgoing goods and ensure their shipment is compliant.


What are The Main Features of Transportation Management?
The six features to look for when selecting the right TMS for you are:
Powerful optimization engine
Real-time tracking capabilities
Management of carrier contracts
Integration with leading WMS, OMS, and ERP systems
Security
Reports and business intelligence


What are The Three Phases of TMS?
A well-designed system contributes in three phases helping take your business global through effective management of freight to increase efficiency throughout. The three levels of TMS are:
Strategizing
Planning
Execution


How Can Transportation Management Be Improved?
Businesses can optimize transportation management through:
Proper preparation and planning
Automation of the transport management systems
Optimization of warehouse management
Ensuring the operating costs are under control


Bottom Line
Logistics is the backbone of any business as it ensures shipping delivery and supply chain management work efficiently. When implemented well, the right TMS system can offer a high ROI for businesses.
Tai Software is a cloud-based TMS  that offers a robust set of logistical management capabilities for businesses. Our software's AI-powered design integrates into one TMS platform that handles any logistics management challenges. Request a free demo today.