A freight broker software is a type of transportation management system (TMS) specifically aimed at streamlining freight brokerage operations. And while there is a multitude of such freight broker software out there, each with its own features and capabilities, they all need to allow their users to enter loads, source and qualify carriers, dispatch drivers, invoice customers, and pay carriers.
Also known as freight management software, freight brokerage software should be customized to handle the freight agent's many real-time needs. This may include things such as trucking dispatch, driver billing payroll, tracking fuel tax, driver log monitoring, route planning, GPS mapping, vehicle routine maintenance, and more.
Somewhat similar to freight forwarding software, these freight management solutions will provide users with the technological advantage to assist shippers with freight ready to haul by finding qualified carriers able to haul that load. These software solutions will be able to handle logistics and financial operations, and transportation management and shipping-related customer service.
It's also important to keep in mind that there are different types of freight broker software that will cater to the size of the operation. For example, small brokers may only be in charge of facilitating shipments between one manufacturer and a customer. On the other hand, larger-scale supply chain management operations will need to oversee multiple aspects such as procurement, inventory management, vendor communications, and various government and FMCSA regulations.
Why Use Freight Broker Software?
Freight brokers are critical middlemen between carriers and shippers. They will come into play every time a company is looking to outsource its logistics operations. Similar to how a warehouse management system can help shippers, this type of software program, like a transportation management system, enterprise resource planning can cover a freight broker's needs. That said, there are numerous reasons why businesses may look for something more industry-specific than traditional transportation management software.
A freight brokerage business will have the goal to save time, money, and resources for their clients. In other words, they will act as an outsourced shipping department for that company, providing it with value in the form of business expense savings. The main benefits that freight brokerage software offers to a business will include the following:
Finding the Right Carrier –

Since many types of goods need to be shipped differently, businesses will often rely on a broker to figure out the best shipping methods for each situation. The software will take into consideration all available carrier rates and determine the most cost-effective shipping method. Some freight broker software may come equipped with competitive pricing from carriers and can lock in lower rates.

Comparing Carriers Pricing –

Freight broker businesses will want to compare carriers regularly, which can include everything from an evaluation of their pricing to their shipping times. If conducted manually, this type of routine review can take a lot of time. An effective software will let you analyze all your current carrier data and pricing for side by side comparison. By being able to compare prices, consignment rates, and shipping speeds, brokers will ensure to only work with the best carriers possible.

Integrating with Load Boards and Truck Posting Websites –

Most FTL freight brokers will use load boards such as TruckStop.com, LoadSmart, DAT, or 123LoadBoard, to name a few. Also known as freight boards, load boards are online marketplaces where freight brokers can post loads, allowing trucking companies and owner-operators with capacity to send quotes. When using a

comprehensive freight broker software

, businesses will be able to post across various loadboards, enabling brokers to source load coverage from a single platform. By integrating these load boards, freight brokers can update their listing across multiple platforms with a few mouse clicks.

Direct Carrier Integrations –

For LTL brokers, freight broker software can connect directly to the carrier through API or EDI integrations. This allows a broker's pre-negotiated carrier rates to display in one screen when attempting to find an LTL carrier for a shipment. Broker software can also dispatch the load to the carrier and receive carrier updates for shipment status, allowing brokers to save time by using one system. Freight Broker Software can also come equipped with LTL rates for brokers who have not yet acquired competitive LTL rates.
Typical Features of Freight Broker Software
When dealing with software designed for freight brokers, most of them will come equipped with the following basic features:
Load Management –

This allows the user to view, track, organize, and update their load tracking throughout the load cycle. It will display information about loads by the customer, load statuses, drop dates and times, drivers, carriers, and equipment being shipped. It also allows brokers to sort loads based on customer, carrier, city, state, reference number, or other similar keywords.

Invoicing –

Brokers will also be able to handle their shipping, as well as their land and air freight, by creating documents that detail what each shipping partner and stakeholders is owed. The software should be able to handle primary accounting capabilities, such as multi-currency payments.

Quotations –

It should also be able to generate quotations for the modes of transportation used by the broker. It should be able to track the status of these quotes and convert them into orders when it becomes necessary.

Document Management –

The freight brokerage software should also be able to receive, maintain, and archive documents, files, and other data. It should be able to use customizable templates to generate new documents, add security and access features to certain sensitive documents, and share documents internally and externally.

Electronic Data Interchange (EDI) –

It allows for the exchange of business documents from one device to another by using a standard electronic format between trading partners.

Application Program Interface (API) –

multiple software systems to exchange data through electronic communication.

Routing, Dispatching, and Planning –

The software helps find time- and fuel-efficient routes by analyzing maps, traffic information, costs of fuel, and modal limits. With this information, brokers and shippers can determine which carrier will be the best for each delivery and consolidate shipments into the most efficient loads.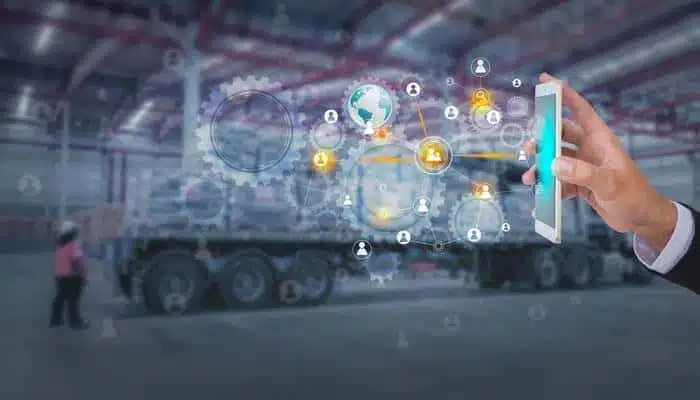 Choosing The Best Freight Broker Software
The best freight software should be all about scalability when talking about less-than-truckload (LTL) freight brokers. Calling and emailing individual carriers is not only outdated but incredibly time-consuming. To build their business in an increasingly competitive market, brokers will have to utilize direct carrier integrations to automate the shipment lifecycle. Put simply; they need a system that streamlines the entire process and makes their lives much easier.
In the case of Full Truck Load (FTL) brokers, effective software will translate into the possibility to manage their entire workflow from a single, centralized platform. It will be able to create loads and source coverage from your own network. It should also be able to sort that network based on carrier preferences. Load boards should directly integrate so that brokers can post loads from a single page. Carrier bids will be fed directly into the platform to allow brokers to quickly and effectively onboard new carriers automatically. This simple and streamlined workflow will allow for time and resource-saving, making it possible for brokers to scale growth
The system should also allow you to quickly onboard new carriers and track their compliance details so as to widen your network and find load coverage at a moment's notice. The software should also be able to integrate easily with all standard industry software, allowing the user to gather information more quickly and effectively from multiple sources. Doing so will eliminate the, oftentimes, cumbersome process and ensure that carriers are always verified without actually breaking up their workflow.
The broker TMS platform will need to have direct API and EDI carrier integration to give staff members the necessary insights and control over the entire shipment lifecycle. Automated dispatching and tracking should also be available to move shipments from quote to delivery without needing any manual intervention. Likewise, freight carrier updates should feed directly into the TMS' activity log for any quick and easy customer updates on demand. This high level of automation will speed up scalability, allowing brokers to take on additional shipments without increasing their labor costs.
The TMS' API tariffs should give brokers and their clients instant access to all of their LTL rates, displaying rates in a single location where the shipments can also be booked and dispatched. Customers should also be able to access brokers' LTL rates directly through a branded self-service customer portal, helping increase shipment volume without increasing the workload.
Lastly, an effective freight broker software will allow users to track their shipment from the shipment profile. By making use of the direct API/EDI integrations to LTL carriers, it's possible for shipment tracking to be updated right into the shipment's activity log. This will allow operation teams to keep a close eye on all shipments in transit while also empowering service teams with on-demand updates. These updates should also be displayed in the customer portal, giving them the possibility to track their shipments by themselves.
Takeaway
While most freight brokerage software should provide users with basic features to help them manage their loads, only a handful actually help brokers scale their operations and stay ahead of the competition. Tai Software is one such example that encompasses all the aforementioned features and benefits. It's a cloud-based solution that makes use of artificial intelligence (AI) to provide its users with a centralized platform that can automate the shipping and accounting process to help freight brokers scale growth.
Tai Software will analyze millions of data variables in real-time and will allow companies to increase their efficiency within the transportation and freight industry. It's a solution that addresses every aspect of the shipment lifecycle, making it a great TMS software platform for freight brokers, 3PLs, freight forwarders, and large shippers alike. Request a free demo today!