PARADE AND TAI FLEX WITH CONCEPT'S NEEDS
In March of 2020, Concept Logistics, a Buffalo, NY-based non- asset freight brokerage, turned to a new technology solution during the height of pandemic-induced logistics challenges. Their leadership team replaced their old TMS with Tai TMS, a web- based TMS system designed for both FTL and LTL freight. The new system helped Concept Logistics automate some of their processes and helped them attain better visibility. In 2021, the team added Parade's capacity management tool to their tech stack to help them better manage their capacity and further automate freight matching, carrier outreach, quoting, and booking.
The relationship and seamless data flow between Parade and Tai have allowed Concept to make one of its biggest customers almost completely self-serving. Using Parade Smart Rules, they've nailed down the shipper's carrier preferences so that carrier outreach for that client is essentially completely automated. With an individualized client portal into the TMS, the shipper is then able to book their own loads through Tai since available carriers are sent directly from Parade to Tai.
CONCEPT LOGISTICS IS ADDRESSING ONE MAIN INEFFICIENCY: RELATIONSHIPS
One of the main goals Concept hoped to address with their new tech stack was improving their relationships with both their carriers and their shippers. Traditionally, brokerage's relationship-building efforts tended to focus more on shippers, but smart brokers know that building relationships with carriers means more access to capacity, the ability to use capacity more effectively due to more available information, and potentially even better rates. Better relationships with their carriers lead to better relationships with shippers, and that's a win all around. When Concept's team can offer shippers better rates while getting fair rates from their carriers, it's a win for everyone.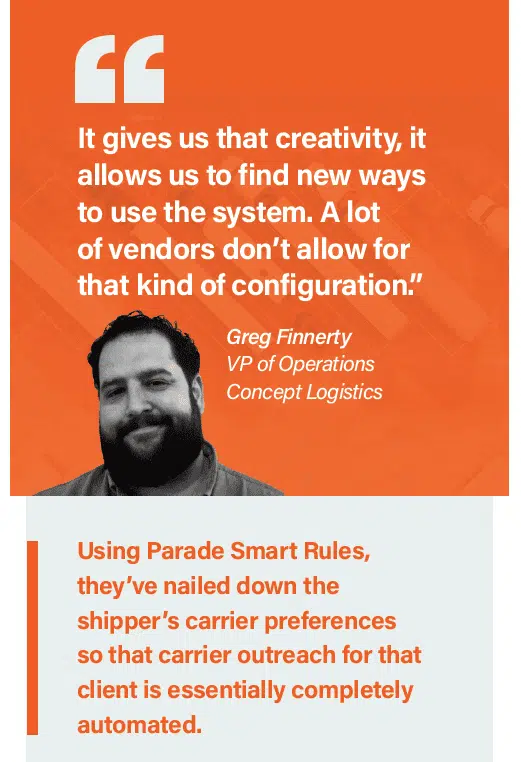 AUTOMATION IS MAKING CARRIER OUTREACH MORE DELIBERATE
Between Parade's freight matching and automated carried outreach and Tai's simplified posting and booking automation, Concept has been able to cut down on the busy work their reps do in order so they can maximize interactions with carriers.

CARRIER PROFILES KEEP CONCEPT'S TEAM FROM RELYING ON TRIBAL KNOWLEDGE
Before they modernized their tech stack, reps at Concept relied on carrier information and preferences written in notebooks to keep track of their carrier network's capacity, making tribal knowledge the only real means of carrier profiling. Now, Parade helps Concept keep track of carrier data and preferences in a way that's far more effective. Reps can share what they know about their carriers so that other reps can use it to book more advantageous loads.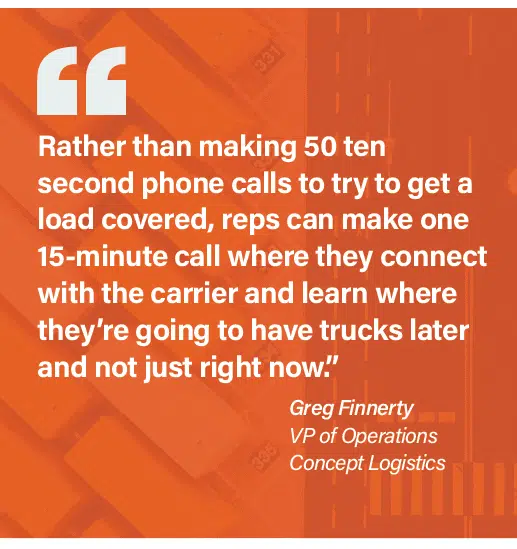 A FOCUS ON RELATIONSHIPS LEAD TO BIG-TIME CARRIER REUSE STATS
Concept has always focused on carrier reuse, and with Parade, they're able to better track their carrier reuse statistics so they can strategically improve them over time. Their recent stats showed that over the last 90 days, carriers hauling over 4 loads are at 60%, made up of 103 carriers. Even more impressive? They have 746 carriers that take 20+ loads per month.
CONCEPT LOGISTICS' NEW TECH GIVES THEIR REPS A TOP-DOWN VIEW OF CAPACITY
Between the relationships reps are building and the more in-depth capacity information they're getting from their top carriers, plus the capacity data Parade compiles and pushes into Tai TMS, Concept reps are getting a broader view of their available capacity. This allows them to plan ahead, cover loads early, and keep more loads off the spot market.
THAT TOP-DOWN VIEW IS HELPING THEM DIRECT SALES
Their improved view of capacity goes beyond getting the loads they have covered. Concept is using capacity data to direct their sales teams to areas where they know they have capacity with preferred carriers. For example, if they know they're going to have a couple of trucks in New Jersey next week for a pick-up because they've been able to book earlier using new-found data, they're able to find loads to get those trucks to New Jersey, as well, taking advantage of better rates on loads that already have backhauls.


THE FLOW OF DATA BETWEEN PARADE AND TAI MAKE CONCEPT REPS MORE EFFECTIVE IN BOTH SYSTEMS
Because information from quotes and bookings flow back and forth between the two systems, reps at Concept Logistics can easily see rates from Parade right in their TMS and loads booked in the TMS show as booked in Parade. This allows them to measure the effectiveness of their rates from either system, helping them find rating issues early so they can make sure they're getting the right rate on every load.