ARL Logistics turned to technology partners Parade and Tai TMS to move their brokerage into the future. The brokerage has built a team to get digital operations up and running and they're using Parade and Tai to track key metrics along the way, improve their carrier relationships, and ultimately improve the bottom line.
In this case study, you'll learn about:
» How ARL Logistics is preparing for the future of freight
» The Parade internal reporting metrics they're using to move their brokerage forward
» The impact focusing on carrier relationships has had on ARL Logistics' bottom line
» ARL's application of Parade Smart Rules and Lane Preferences

PARADE FACILITATED THE ADDITION OF A CARRIER SALES TEAM AT ARL LOGISTICS
Before ARL Logistics adopted leading-edge freight tech, they were using a strictly cradle-to-grave, allowing every employee to use their own process to source carriers. ARL sales reps had, of course, developed their own efficiencies to get loads covered and maintain margins, but there were still a lot of inefficiencies that their team hoped to root out. When their team began looking at tech solutions, ARL Logistics leadership knew straight away that they didn't want to build out solutions. The Pennsylvania-based brokerage has a large tech team that focuses on the legacy business. Management wanted to find technology partners rather than simple vendors, to build the logistics software that would allow them to scale. ARL found the kind of partnership they were looking for in Tai TMS and Parade. The brokerage adopted Tai as their TMS in 2020 and went live with Parade in June of 2021, getting their first Book Now on the very day they rolled out Parade. The addition of Parade to their tech stack allowed ARL to found their carrier sales team, which focuses on the digital side of their business. "We don't want to enhance carrier relationships by just adding a bunch of bodies to the carrier sales team. I want those bodies to promote the technology to digitally book freight and get rid of one-and-done carriers in our network," said Jordan Reber, ARL's Executive Vice President.
PARADE AND TAI COMPLEMENT EACH OTHER PERFECTLY TO SUPPORT ARL'S OPERATIONS
With the seamless integration between Parade and Tai TMS, everyone at ARL can benefit from Parade's capacity management, even though some reps don't actively use the tool. ARL sales reps work mostly within Tai TMS, but since all booking and quote information from Parade flows directly into Tai in real-time, their reps can still make use of the digital leads the company is garnering through Parade. Through July 2022, 8.9% of the brokerage's loads booked have been digitally assisted by Parade with an average
of 17% quote converted in the last 90 days. While using Parade, ARL has realized gains of 4.32%-8.47% in gross margin on digital freight.
THE PARADE TEAM'S APPROACH TO GO LIVE PLAYED A BIG ROLE IN THEIR SUCCESS
"The Parade team was really engaging with our carriers, getting the information right out in front of them. The way they targeted their email marketing, we had carriers engaging from the very beginning and that's been a big part of our success. It got buy-in from our team and helped them trust the platform," said Keith Reeher, Director of Strategy at ARL Logistics. Leadership at ARL gives much of the credit for ARL's successful capacity management rollout to Parade's team. Parade's Customer Experience team worked hard to ensure that carriers got into the Parade system so they could see freight right away and begin booking and quoting digitally. That instant success with carriers led to the team at ARL jumping on the Parade bandwagon because their team immediately saw value in the system.
NEW METRICS
The team at ARL is using three different types of metrics to track their success and understand the impact of the tools their team has implemented.


EFFORT METRICS
The leadership team at ARL tracks metrics like Smart Rules added, carriers onboarded in Parade, and lane preferences entered to track how their carrier sales team is interacting with the system. Parade also created a customized report to track reps' progress and performance.


RESULTS METRICS
Digital booking, digital booking attempts, digital quotes, and other digital interactions are tracked through Parade. ARL calls these "Results Metrics" because those metrics the result of the effort reps put in and the system doing its job.


BOTTOM LINE METRICS
Parade has allowed ARL to get a direct look at how the system is paying off for them by calculating metrics that help them see the system's ROI right out in front. For instance, leadership can see how their margins stack up when a load has digital interaction versus a manual booking that has taken place completely outside of the Parade system.


LEADERSHIP AT ARL BELIEVES THAT RELATIONSHIPS ARE THE FUTURE FOR FREIGHT BROKERAGES
While digital booking platforms have become a common feature in the freight industry, leadership at ARL believes that balancing digitization and human interaction will become the industry standard over the next several years. The ideal balance will allow carriers to book loads digitally at their leisure, but with a person there to offer assistance when it's needed. The team at ARL is using Parade to get a jump-start on building relationships with carriers and getting them on board with digital processes now, before the industry moves away from load board posting, calling in to book a load, and manually onboarding and assigning carriers to loads.
CARRIER RE-USE IS A PRIORITY
In a perfect world, ARL's Executive Vice President Jordan Reber would avoid one-and-done carriers altogether. While that's not feasible right now, the company is emphasizing the importance of carrier reuse. Their Parade-using carrier sales team is helping them facilitate that by getting carriers into the system, making sure Parade knows what kinds of freight ARL's carrier network want, and getting the right loads sent to the right carriers. "I think the industry will move away from posting loads, and Parade and Tai are helping us get ahead of that," said Jordan Reber, Executive VP at ARL. ARL has improved its carrier reuse dramatically in the past six months, with the number of carriers taking 20 or more loads increasing nearly 25%, and they saw a margin gain over 10% on those 20+ load carriers.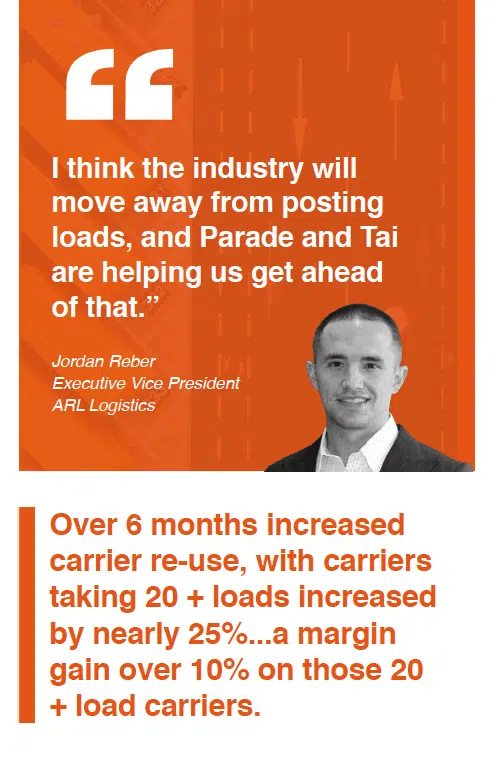 PARADE SMART RULES AND LANE PREFERENCES ALLOW ARL TO BUILD RELATIONSHIPS WITH CARRIERS
Parade allows the carrier sales team at ARL to show their carriers the loads they want to see, proving that their team is listening and taking carrier needs and wants into account and therefore building stronger carrier relationships. "The inefficiency of having data that you never do anything with goes away with Parade," said ARL Director of Strategy Keith Reeher. Keeping up with these Smart Rules and lane preferences is also helping the team at ARL reach out to carriers about loads faster instead of waiting for carriers to come to them about a load, allowing them to manage more of their preferred carriers' capacity. Because they're using Parade, the carrier sales team has been able to move away from sticky notes and tribal knowledge as their main source for information on carriers' preferences and capacity. "If you're just posting to load boards, you're going to be left out. With tech like Parade and Tai, we find a middle ground between digital transactions and human interaction," said Jordan Reber, Executive VP at ARL.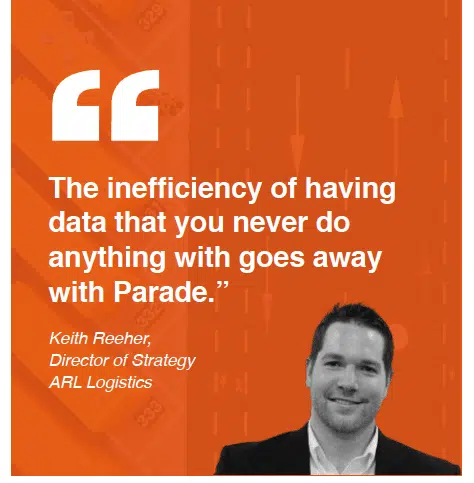 ABOUT ARL LOGISTICS
ARL Transport LLC is one of the largest intermodal drayage companies in the U.S. and Canada, located in outside of Pittsburgh, PA. ARL Logistics is business development arm that is fueled by cutting edge technology along with tried-and-true strategies. Together…..we are the ARL Network. Visit them on the web at www.arlnetwork.com/logistics.


ABOUT TAI
Tai TMS is an all-in-one domestic freight management system for full truckload and LTL shipments. Tai gives your team unmatched speed and scalability with automation implanted into every phase, along with direct integrations to carriers, load boards, and capacity tools. Tai Software's core group of developers and freight industry experts has helped freight brokers scale growth for over 20 years. We are dedicated to introducing unique, envelope-pushing, instantly accessible products to the transportation management industry. We believe in perfecting our existing products and expanding only
when we can meet our own highest standards. Our lean organization allows us to focus on continuous innovation to ensure our customers are always empowered with the most cutting-edge software. Find them on the web at taisoftware.com.
ABOUT PARADE
Parade is the leading capacity management platform. Top freight brokerages build dedicated digital capacity and book more loads using Parade. Parade integrates with all of your existing tools to source capacity, match freight, and manage relationships. Brokerages using Parade reutilize carriers, streamline workflows, price competitively, and automate load-booking. For more information about Parade, visit parade.ai.